Smarter than any MES
Sustainable process optimization
With existing data
The Detact AI system captures raw data like an MES and links it intelligently.
You recognize and understand interactions between
the individual parameters in complex process chains.

A Superior Platform for Holistic Process Assessment
Detact is THE tool for the intelligent consolidation of data in manufacturing! The
AI system
takes over tasks of an MES, but goes far beyond that. Because: Detact uses the methods of artificial intelligence and works with
Big Data
. For example, Detact takes over data analysis and process analysis for highly efficient production planning and monitoring. In addition, there are central tasks in the areas of quality management/ CAQ, PDA, predictive maintenance, and much more.
For this purpose, Detact links production parameters, product properties and quality characteristics in a central platform and, if desired, even works fully automatically and according to your special specifications.
"Detact brings together all relevant data sources at a higher level and automatically analyzes the information obtained. This is perfect for us! In addition, the results are visualized in real time, regardless of location."
For each data source
and any number of interfaces
Automated direct connection via Detact Connect
Detact captures data volumes that are permanently generated in production. The AI system works according to the SaaS principle and even integrates data from physically separate system areas such as:
Machine data
Operating data
Quality data from measuring and test equipment
Peripheral data
Environmental data
(Excel) files
Data from third-party software such as ERP, BDE or
CAQ systems
(SAP, Infor, abas, SCADA and many more)
There are now more than 100 preconfigured Detact drivers for a wide range of file formats, plant controls and third-party software. You can find a selection in the figure.
"It's impressive how many data sources Detact can handle."
Customize your own Detact Connect Driver
Manual Data Collection
OPC UA/DA
Euromap 63/77/15
Siemens S5/S7
Krauss Maffei MC5/MC6
Compact.Net CAQ
QS-1-2-3-4
ProSeS BDE
SAP
EXCEL
PDF
ENGEL EMI
Beckhoff Twincat ADS
LabVIEW
Modbus TCP
RS-232
WinCC
Digital I/O
Buhler
Babtec CAQ
LS-DYNA
ARBURG ALS
InTouch MES
MPDV Hydra
MATLAB
GE Digital (Proficy)
ENGEL/ T.I.G. authentic
and many more
On-Premise
Our experts will install Detact Ready-to-Work on your Linux or Windows servers.
OR
Symate Cloud
You use the AI system via the secure Symate cloud.
In the shortest time to an executable system.
Even with highly complex projects
Decide for yourself! With Detact, you get all the technology you need to capture, store and analyze relevant data. Options for processing
Big Data
, dashboard functions and various analytics or AI apps are included.
Because Detact is end-to-end, we guarantee maximum automation with minimal administration for your IT.
This makes Detact a perfect tool for sustainable process management in the digital production of the future. You get a valuable AI solution for MES, quality management, store floor data collection, process optimization, maintenance, machine data collection and much more.
"We are pleased that the setup of Detact went so quickly and smoothly. The Symate team handled almost all the tasks remotely and got Detact deployed in no time."
Single-server vs. cluster
Detact is geared to your needs from the very beginning
Start into the digital future with Detact! Network your process chains with a single-server solution, for example. If this "small" system convinces you, you can easily expand to as many servers as you want later.
By the way:
Detact's special architecture is perfectly suited for Big Data. The system is highly scalable (clustering) and parallelizable. Unlike conventional MES and control systems, Detact can record or analyze a wide range of data simultaneously. This procedure will save you time and money!
"It is advantageous that […] Detact can respond very individually to the concrete requirements in the company and not simply impose a rigid, prefabricated concept. This results in solutions that really help us."
Decide for yourself whether you use Detact via the Symate cloud or on-premises on your own servers!
Our
cloud solution
stands for customer-specific automation with minimal administration effort. You use Detact via the Symate server and get a platform-independent end-to-end application that is ready to use out of the box.
And you benefit from encrypted communication, daily data backup and a generous inclusive data volume…
You want to stay independent and use Detact on your own hardware? Then the on-premise license is just right for you! We set up Detact directly on your system and make any necessary adjustments.
"Detact is exactly the right solution for us because all engineers access it centrally via their browser and the system is so flexible that our data management requirements as well as parameter analysis can be easily implemented at any time"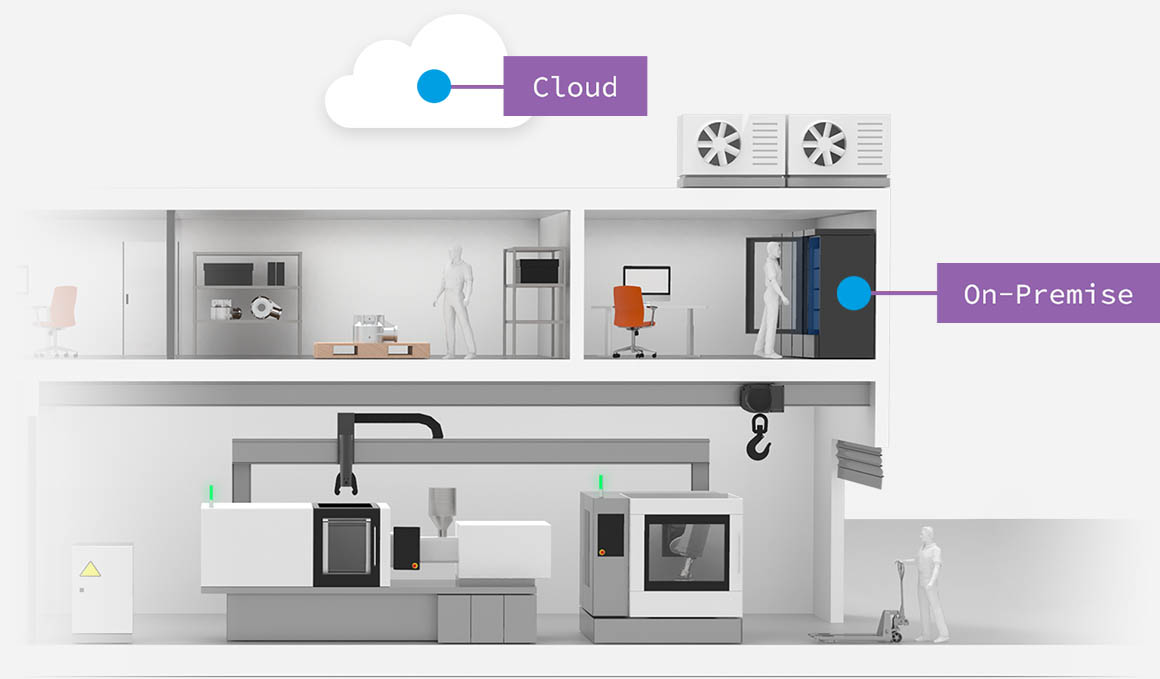 open for third party systems
Detact's basic features include an open application programming interface (API)
Thanks to this API, Detact can easily communicate at any time with third-party systems such as BDE, MES, simulation or ERP, etc.
And you get a decisive advantage: You simply continue to use established software systems and tools while working with the new data variety as well as Detact's modern analysis methods. On this basis, the introduction of Detact will be child's play for your shopfloor colleagues and other relevant employees.
"From our point of view, Symate convinces with its great competence in the subject area of artificial intelligence as well as in manufacturing process chains."