Symate's cloud clients benefit from the highest security standards and internationally recognized certifications.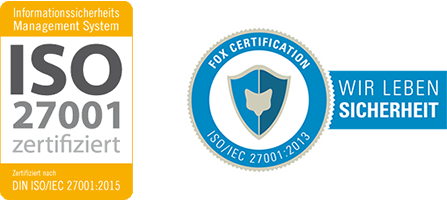 Detact collects the data from your processes, analyzes it using artificial intelligence methods and submits individual recommendations for action. For small projects or company-wide installations. Even Big Data is effortlessly processed via the special Symate Cloud.
Your security questions on Detact:
+++ nicht benutzen +++
Does Detact include a security concept?
Yes! Detact provides a strong security concept with special access protection. The Detact-Connect , application, analysis and database servers, for example, are located in a demilitarized zone (DMZ), i.e. they are separated from the machine network, the intranet and the internet. In addition, there is granular management of users, rights and roles.
In addition, the security concept for Detact includes the following measures:
The versioning, i.e. the rollback capability of changes
An audit function that makes every access and every change traceable
Targeted distribution of data, making it virtually impossible to access the entire dataset
Are Detact servers certified?
Yes! Symate servers are certified according to DIN ISO / IEC 27001 and FOX Certification.
Does artificial intelligence in Detact pose threats to my systems?
No! The Detact AI cannot cause any damage! The artificial intelligence in Detact is used exclusively for processing process or quality data. It is limited to data analysis.
The following basic rule applies:
Detact does not change your systems, but instead prepares the already existing data and / or provides recommendations. This gives you more transparency and allows you to act in a more targeted manner.
Does Detact include permission management?
Yes! Detact has integrated role and rights management. Individual clients can be defined individually. Thereby, the creation of users, rights and roles is regulated in a granular way. This allows you to individually and very precisely define who is allowed to read, change, transmit or delete which data.
How is my data processed with Detact?
The data is read out close to the machine by Detact and transmitted encrypted via industrial ethernet or WLAN according to the local conditions and your usage requirements. The encryption is done e.g. via SSL/ HTTPS.
The actual data analysis takes place on special Detact servers that are physically separated from your systems.
What data is transmitted when using Detact?
Detact transmits process, machine, quality, peripheral and environmental data. We need these for analysis on your Detact servers or in the Symate cloud. No other data is transmitted.
If you expressly wish Detact to also process personal data, this will be anonymized or transmitted in a secure manner that we will individually coordinate with you beforehand.
Will my data be transmitted on an encrypted basis?
Yes! The data from externally connected data sources is for instance encrypted via SSL/ HTTPS. This standard is also used for the transfer between the individual software components.
To ensure that your data can be processed as securely as possible, we place the Detact analysis, connect, application and database server(s) in so-called demilitarized zones. Furthermore, this high level of security also applies to access to the machine network and the intranet, which is additionally protected by various firewalls.
You have further questions?